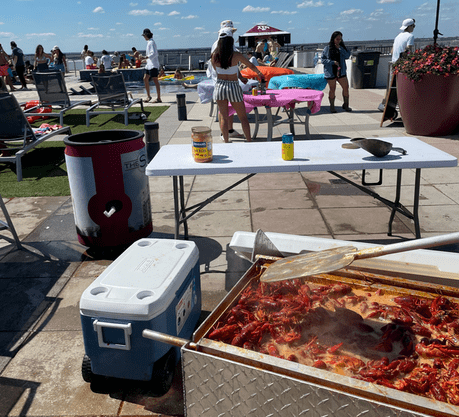 ---
If you have been to or lived in Texas during the Spring, there is a good chance that you were invited to at least one or two crawfish boils. They have become a southern diet staple nearing the end of April when the little lobster-like creatures are plump and plentiful. Many argue about boil times, spice levels, add-ins and fixings, but there are a few things you're guaranteed to find at every single crawfish boil down south: levity and hospitality.
The Standard's First Annual Crawfish Boil was no exception to that rule. No matter where our residents came from, whether they were die-hard crawfish enthusiasts or first-time "mud-bug" tasters, they all shared in the fun atmosphere on our sun-drenched rooftop pool deck, enjoying fresh cooked crawfish, a live DJ and delicious gourmet popsicles. We were so excited to see everyone come out, and even more excited to hear what the residents had to say about the boil:
"This is some of the best crawfish I've had all year! When can I get seconds?"
"You guys outdid yourselves with this. Y'all always create such a cool atmosphere, but this is next level."
"That is an INSANE amount of crawfish!"
We definitely pulled out all the stops for this one, from having on-site bar tenders from The Corner Bar on Northgate to DJ Kendall and Frio's Gourmet Pops, we left nothing to chance as far as ways to have fun. We even had our event sponsored by Natural Light! We loved being able to interact with and serve our residents in new and fun ways. This was a wonderful chance to hangout and enjoy the warm, longer days as we near finals season and the inevitable loss of the beating heart of our community—The Students.
When we went into planning this event, we said it very well may turn into an annual thing, and before the water could get cool in the crawfish boiler, we had residents asking where they could sign up for next year's boil. We are ecstatic about the turn out and we cannot wait to make this into a Standard College Station staple. In a town full of traditions, we are happy to be creating some of our own and making lasting memories with our residents as we go.